Meal kits were a growing trend in 2017 and are showing no signs of slowing in 2018!
With Hello Fresh, Gousto, Mindful chef, Simply Cook, Gourmio, Blue Apron and newbies Waitrose Cook Well and Little Cook Box all selling recipe boxes/kits, the market is growing. The search volumes for recipe boxes were reportedly up by 109% in the first 9 months of 2017.
Companies that deliver meal kits directly to consumers are gaining traction in the UK, with spending on services like Hello Fresh and Gousto growing by nearly 65% in the first half of 2016, compared with the same period in 2015, according to a report from analytics company Cardlytics. The study said that the volume of orders placed with these services grew by more than 47%, compared with 2015, having analysed the spending habits of 5.8 million UK banking customers.
Subscribers tend to be folks who enjoy cooking or enjoy nicely cooked food, at least but lack the skills or time to get there. For reluctant home chefs, the strategy is cheaper than a takeout routine; for more experienced ones, it offers a reprieve from a familiar recipe repertoire.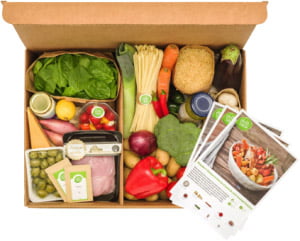 The market leader for meal boxes Hello Fresh is delivering 11 million meals per month globally, so this looks like a growing opportunity in this marketplace, for producers to sell product into. Many are predicting the sector will see 25 – 30% growth over the next 10 years. Meal-kit companies, by contrast, work directly with food producers to acquire exact quantities of particular items, in some cases at a lower cost than grocers pay. This also offers producers a wonderful opportunity to sample directly to consumers in their homes.
The growth has been put down to the following to more consumers wanting to cook, enjoying the inspiration of having the recipes suggested, wanting to eat healthier, weight loss and convenience.
Peter Sidwell founder of Simply Good Food TV sees the growth in this sector as a great news as people are getting back in the kitchen and cooking. For many years people have been.
The newest kid on the delivery block is Little Cook Box who have just launched meals kits for children. Their boxes offer kids fresh nutritionally balanced meals delivered to your door. As busy working parents themselves, Philippa and Simon Guest, Founders, felt something could be done to make mealtimes easier. "It's an unrelenting challenge: feeding little critics day-in and day-out with no end in sight," said Philippa. "We struggled every evening, and were burnt-out by the end of the week!" So Little Cook Box was born – a subscription-based, courier-delivered, answer to all our problems…..A convenient way to simplify cooking for children, and a way to inject some fun into the process, making mealtimes stress free for kids and parents.
So watch this space as growth in this sector is only predicted to grow.