BBC television show War on Plastic recently revealed that we have 19.5 billion bits of single use plastics in UK homes today. And plastic pollution is to increase threefold by 2025. These facts are shocking, but facts that those of us in the food industry can do something about.  Building brand loyalty by using alternative packaging to plastic, and by having sustainability at the heart of business is not impossible.
The momentum for plastic free aisles and continued interest by consumers in using less plastic indicates that brands need to consider what packaging solutions will give them more shelf space.  Retail buyers are showing signs of favouring non-plastic and fully sustainable packaging brands when considering new listings.
A medium sized brand actively looking for a replacement to their plastic packaging wrapper recently said ' we need the big guys to make the change and we will follow'.  The effort to find suitable alternative materials to plastic and the current higher cost of these is seen as prohibitory by many. But do we really need to wait for the teams at Nestle, Unilever, PepsiCo etc to make change before we do the right thing? By embedding a sustainable approach within start up business models there is a real chance that the brands of the future can lead from the front.
The Food and Drink Federation cites that 97% of the 7,290 food and drink businesses in the UK are SME's. It is reasonable to consider that if even 50% of these sought to become non-plastic businesses there would be a shift in both costs of new innovative materials and a movement that resonates with consumers. Not to mind the environmental impact.   A quick review of innovations being embraced across the UK indicate that already in 2019 radical change is occurring. 
Innovation in action

Aeropowder
Pluumo is the world's first thermal packaging material made from surplus feathers from the poultry industry and used as a replacement for expanded polystyrene. It is becoming a familiar site in food delivery boxes and butchery boxes due to its ability to keep foodstuffs chilled. A start-up of less than 3 years old which has quickly become a key player in alternative materials this is a business merging science and chicken feathers to create new and clever ways of packaging food.
Bee Bee wraps
A beeswax covered cotton alternative to cling film, Bee Bee wraps are an example of a brand that offers the consumer a viable alternative to plastic wrapping.  More cleverly though their business model offers an insight into how technology can step change expansion plans but also create economies of scale. A partnership with tech experts Cambridge Consultants led to the creation of a bespoke manufacturing unit which speeds up production by 30 times, with the same volume of wraps now ready in 15 minutes.  Founder Kath Austin tells us ' There's never been a better time to collaborate and team up. We can create change far quicker than blue chip companies and make a real difference to the environment we live in.'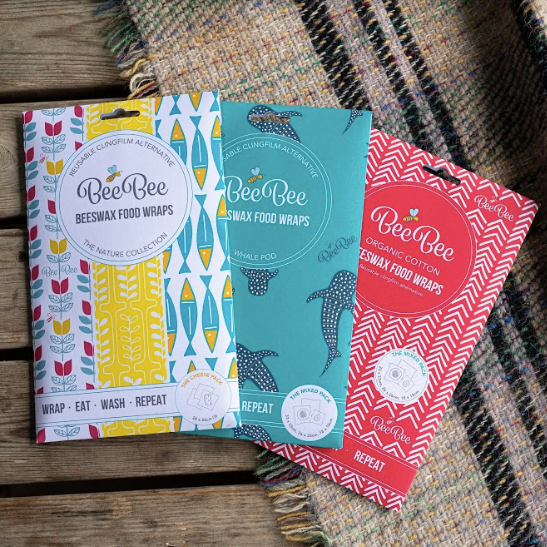 Veg nets
Plastic nets used for fruit and veg are being replaced by a by-product from the forestry industry. In 2017 Riverford veg box delivery company were the first in the UK to introduce the replacement nets spun out of broken down pulp knitted together into tubes.   Made by an Austrian company, Robyn Copley-Wilkins at Riverford is quoted as saying "A net made from wood sounds strange, but actually works beautifully, and is very environmentally friendly."
Amazon
Urging sellers and brands to optimise their packaging, Amazon launched its Frustration Free Packaging Vendor Incentive programme into five European countries, including the UK in October 2017.  Sellers are now required to send specific products to Amazon distribution centres in packaging that doesn't need extra preparation for shipping or an outer box.  Additionally, amazon is looking for new ways to reduce waste and work in partnership with brands to find sustainable packaging for delivery. The programme is limited to soft goods, consumables and durable goods for now and has been active in the US and Canada for 11 years but roll out across all categories is expected.
No Issue
This eco business started out of a necessity to find an environmentally friendly tissue wrap that the founders needed for another business they were running. There has been such a demand for their soy-based, acid free ink on FSC certified paper that they soon moved into providing compostable mailers. Bubble wrap envelopes can now effectively be a thing of the past, and with low MOQ's specifically tailored to small businesses there is no reason not to consider these earth and consumer friendly materials. Their clever mailers also come in various shapes to adjust to your product and needs showing that they really have tried to make it easy to make a change. To boost they also plant trees in areas needing reforestation and make it easy to share your own eco-credentials through their badge scheme.
TIPA
Biodegradable packaging solutions specifically designed for the food industry that perform just like plastic.  TIPA is on a mission to replace plastic with its compostable material and drive forward the change to a circular economy. Every piece of flexible packaging currently manufactured cannot be recycled or composted (think wrappers for fruit and crisps packets etc) and TIPA has created a unique polymer made from bio-materials that have the same properties as conventional plastic such as sealing, moisture barrier, shelf-life and durability.  The packaging is fully compostable within home and industrial systems within 6 months. As a start up their costs are currently higher than conventional plastic, but with increased demand and interest those costs could quickly come down. Currently providing the printed wraps for bananas in Waitrose as well as packaging for granola bars and other veg this is a solution that industry could really support and get behind to create economies of scale and pricing in line with the cheapest plastics.
Originally written for Enterprise Nation
Feature photo credit: Bee Bee Wraps