Our Managing Director, Vhari Russell recently had the pleasure of visiting the England Marketing team at their superb facility, The Research Hub. Carolyn Hudson, Marketing Manager for England Marketing kindly took some time out with us for a quickfire Q&A, and explained more about the importance of doing your research!
Quickfire Q&A…
How long have you worked in the food industry? 
Me – I have worked in the industry for 14 years.
Which area of growth in food and drink has surprised you the most?
Fast food – the change amongst consumers for eating outside the home has been extraordinary. The variety and NPD that has gone into fast food and snacking is extraordinary too – and now the thirst for healthy snacking and food-to-go is so fascinating. 42% of meals in the UK are now eaten outside the home. NPD specialists are rising to the challenge so quickly – not least because they know that loyalty doesn't really exist and certainly Millennials and Generation X are constantly looking for something new.
If you could give one piece of advice to a new food and drink brand, what would it be?  
Research – Research to know your market, know what your target audience want, don't be precious, if consumers don't like something alter it – they will be the ones that make it a success. Over 90% of new products fail – gather evidence and get it right before it goes to market to avoid expensive mistakes.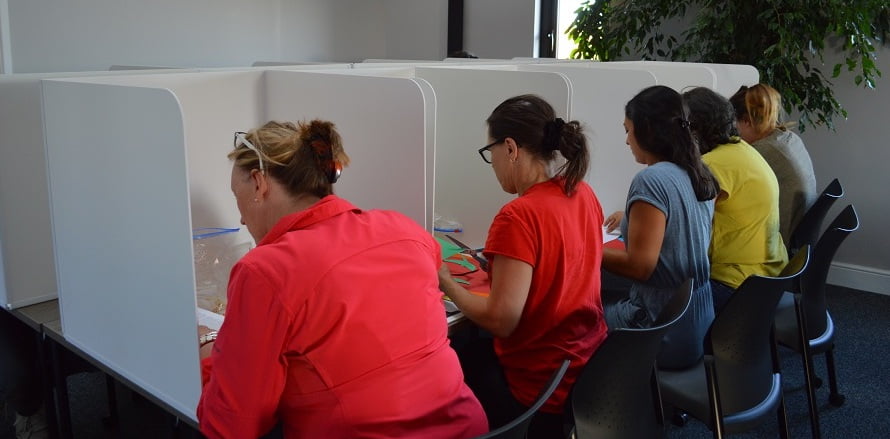 Tell us about you and your food industry experience? 
We started out in 1994 and have since outgrown four sites. Summer 2018 we doubled the size of our current site to offer a full-service research facility – The Research Hub.  With a tractor to table approach, we are reputedly the only agency to operate across the entirety of the food and agriculture supply chain – not just in market research and product development, but also in researching market opportunities. What we love is working with clients on new products or new concepts gathering evidence from consumers to shape and inform the final deal – taking an idea through the concept stage to get products on-shelf and finally into the shopping basket.
We have learnt how to engage with people at all stages and from all backgrounds – so whether the need is for gathering consumer opinion or for grower insight, looking up the supply chain to the end user, or back towards the farm gate, we have developed the best ways to gain the most effective and useful feedback. Farmers and growers play a vital role in the supply chain, but if their customers, i.e. food manufacturers and retailers, fail to communicate what consumer trends are emerging it can mean a shortfall in satisfaction.
A great example is when we undertook research amongst organic growers for Waitrose – they rightly wanted to establish that if they positioned themselves as leaders in organic, they could be sure of a sustainable supply chain. Relationships can become disjointed – and sometimes a bit of independence helps us to get closer to the truth.
Tell us about your biggest success?
Gosh – to choose one is tricky – setting up The Research Hub in 2018 was a tremendous leap forward for our business. So from a business perspective we are very proud of this. It is proving a popular and very versatile space to explore a whole range of consumer opinions. One of my personal favourite projects and indeed one of the first projects we did at The Research Hub was the immersive research we undertook for Greencore last year. Lots of thinking outside the box was needed if we were able to really get to the 'core' of what they wanted. It was a case of the new product developers taking the concept of summer eating possibly further than the market was ready for. With a mix of premium lines, aimed at alfresco dining, picnicking and summer eating, our role was to explore what appealed and what didn't, who it appealed to, for which meal occasions and why. It's not all about taste, it's about new concepts – what's acceptable and what represents a step too far.
We set up a pop-up shop in The Research Hub and invited a sample of typical UK shoppers from our panel of consumers. We gave them a scenario, such as shopping for a family picnic, and a budget of £30.00 and asked them to spend this from the selection on the shelves of our pop-up shop. Armed with a shopping basket they selected what took their fancy, whilst we simply observed. When their shop was complete we quizzed them on why they had chosen what they had, before returning to the pop-up shop to ask why they had or hadn't gone for some of the new products available from Greencore. It proved to a great piece of research that explored right down to the finest details of what consumers liked about the products and what they didn't. Our client, Mark Whalley was really pleased with the outcome and found it inspiring to be able to engage with respondents too.
How important is research in a brand's success?  
I know it is what any market research agency would say – but it really is a critical part of the process!
In recent years we have developed the ways in which we gather consumer insight. This has been partly driven by the retailers who increasingly want more and more evidence of consumer 'buy in' before they will even consider new concepts. By developing 'The Research Hub' we have been able to advance the variety of ways that we can capture opinion. The Research Hub has specifically been built with 'new concept' – 'taste testing' and 'reformulation' in mind. To gather independent verification that NPD is appealing is very important – it's a busy market place and consumers are looking for 'new' and 'different'. As I mentioned before, loyalty to brands is not as important as it once was, instead consumers are looking out for 'craft' products. Brands are not necessarily looking to stay on the shelf for years – consumer desire to keep looking, trying and tasting new flavours and concepts is definitely on the up. Better that new concepts are tested before going to market so that expensive mistakes can be avoided, but also research will help to steer investment into positive concepts and identify target audiences.