As a  full-service agency based near Cambridge, we have decided NOT to re-open our office post the COVID-19 lockdown. The agency is going from strength to strength and has achieved outstanding results for our clients during the recent period of remote working. Founder Vhari Russell said, "This is the new normal and as an agency staffed predominantly by women, we are conscious of the additional demands associated with family life shouldered by our team. We wanted to ensure we avoid wasting time unnecessarily travelling, to and from the office, and making changes to improve the team's mental health and work-life balance. Certainly, over the past few months, we have witnessed an increase in productivity as a result of more time spent on dedicated agency work rather than suffering the daily problems associated with traffic disruptions and also due to the opportunity to start the working day earlier. As a business, we are also keen to reduce our impact on the environment and the world around us, so working remotely and cutting down on our carbon emissions felt like an easy and responsible action to take."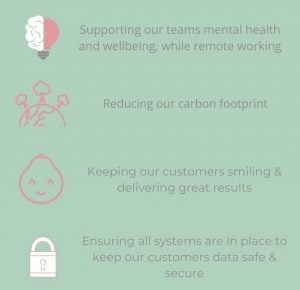 Over the past 60 plus days of the lockdown, the agency has been supporting the food and drink industry by participating in industry-led webinars, running a series of competitions and promotions on their Instagram feed and offering consultancy advice on a gratis basis. During this time we have also ensured we have even more robust software and systems in place to ensure all activities and data are safe.
By working from home the team can then arrange meetings with clients and colleagues at cafés, restaurants and hotels to support different sectors of the food and drink industry.
"We all love working in the food and drink sector and we are keen to play a part in supporting this important industry. We've built up some excellent new contacts and have managed to help many businesses navigate their way through these difficult times, identifying new routes to market and providing strategic advice to enable companies to reconfigure their traditional offering in line with the dramatically changed consumer buying landscape", continues Russell.